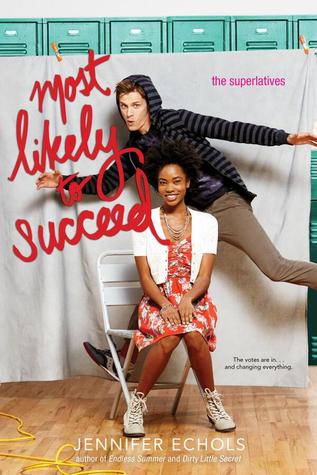 Most Likely to Succeed (Superlatives #3)
Publisher: Simon Pulse
Release Date: August 4th 2015
Synopsis:
In this sexy conclusion to The Superlatives trilogy from Endless Summer author Jennifer Echols, Sawyer and Kaye might just be perfect for each other—if only they could admit it.
As vice president of Student Council, Kaye knows the importance of keeping order. Not only in school, but in her personal life. Which is why she and her boyfriend, Aidan, already have their lives mapped out: attend Columbia University together, pursue banking careers, and eventually get married. Everything Kaye has accomplished in high school—student government, cheerleading, stellar grades—has been in preparation for that future.
To his entire class, Sawyer is an irreverent bad boy. His antics on the field as school mascot and his love of partying have earned him total slacker status. But while he and Kaye appear to be opposites on every level, fate—and their friends—keep conspiring to throw them together. Perhaps the seniors see the simmering attraction Kaye and Sawyer are unwilling to acknowledge to themselves…
 As the year unfolds, Kaye begins to realize her ideal life is not what she thought. And Sawyer decides it's finally time to let down the facade and show everyone who he really is. Is a relationship between them most likely to succeed—or will it be their favorite mistake?
Getting to know Sawyer's softer side has been something I've wanted since being introduced to his character. I'm so glad that this book is focused on him and Kaye, with the other characters taking a seat in the background. The one thing I love about this trilogy is that each book is about a different couple, and we get them as themselves and not how the others see them. This is one of my favorite young adult contemporary series to read and I'm sad to see it end. And if you don't think that Sawyer is book boyfriend material by the end of this trilogy, clearly you are delusional. Echols knows how to keep you engaged with these characters, even with all the teenage angst trying to throw you off.
Let's face it, Aiden is a douche. I hate the way he treats Kaye, like she should be grateful to know him, let alone be in a relationship. When you have parents breathing down your neck about college and doing great at everything, it's easy to just go along with whatever. So, I can understand why Kaye put up with Aiden for as long as she did. That's not to say that I didn't want to yell at her – I've been dying to do it since the last book. Sawyer is your ever present bad boy. Well, that's not entirely true. I thought that it would be bittersweet when it came to his character. Sure, I love the mascot who is always up to no good. I love the sweet and caring Sawyer more. He had me swooning, swear to god. Kaye doesn't really know what to think at first when she realizes that Sawyer is really in to her. After all the time spent together during class, games, and meetings, I just knew that sparks would fly between these two. The ending wrapped up nicely and it wasn't overly done.
This is one series that I would recommend to any lover of teen romance. It's not all sunshine and roses, and that's precisely why I love it so much. You get the good right along with the bad, there's no in between. The couples are adorable, and the everyday high school drama will keep you entertained throughout. There are some cliche` notions here and there, but they didn't make me want to stop reading. Definitely recommended!!
Jennifer Echols was born in Atlanta and grew up in a small town on a beautiful lake in Alabama—a setting that has inspired many of her books. She has written nine romantic novels for young adults, including the comedy MAJOR CRUSH, which won the National Readers' Choice Award, and the drama GOING TOO FAR, which was a finalist in the RITA, the National Readers' Choice Award, and the Book Buyer's Best, and was nominated by the American Library Association as a Best Book for Young Adults. Simon & Schuster will debut her adult romance novels in 2013, with many more teen novels scheduled for the next few years. She lives in Birmingham with her husband and her son.
US Only
If the winner has one of the Superlatives book, he/she can choose another book instead written by Jennifer Echols.